1987 Pontiac Trans Am GTA
---
As mentioned earlier, the car was purchased with the intent of being an all-year-round car. The concept of storing a car during the winter was totally foreign to me at the time. Circumstances obliged me to store the car that first winter of 1993-1994 and I made it a habit for every ensuing year, since it pained me to think of subjecting that impeccable undercarriage to the ravages of salt-related corrosion. Nonetheless, the car was driven exclusively from April to November every year through rain or shine. And that included parking in tight parking spots at work or at malls.
(1995)
The car and I were inseparable, throughout those early years of ownership. At work, I became known as 'the guy with the black Trans Am' and anywhere I went, the car was not far behind... such as this outing to the beach.
(1995)
Long drives through the countryside were common. Absolutely no consideration was paid to the amount of mileage I was putting on this pristine Firebird... all I cared about was the excitement and satisfaction I got from driving this car as often as possible.
(1995)
(1995)
For several years, I carried a full complement of photo equipment with me wherever I went, even on the daily commute to and from work. This is the main reason why I have so many pictures of this car, since I would take the time to stop and compose a photo now and again anytime I noticed a potentially satisfying photo opportunity.
(1995)
Not being able to tear myself away from this car for very long, I would even take it with me on vacations. Above is a shot of my car in historic Old Quebec, where I spent a few days in 1995 just relaxing and enjoying the sights. Below is a shot of the car outside one of Montreal's famous attractions.
(1997)
Being a fairly powerful automobile, the temptation was always there to exercise the throttle a bit. Because any abuse happened sporadically and was not my usual way of driving, I never felt the least bit guilty anytime I decided to torture the Goodyears that were misfortunate enough to sit at the rear of the car.

(1997)
The car has seen 3 excursions down the 1/4 mile at Napierville, Quebec, Canada. Each run was better than the previous, with the 3rd run netting a 15.67@88.2mph. While it has never been on a chassis dynamometer, if you plug that result into your horsepower calculators it will be clear that this 305 TPI is running fairly healthy and in line with the factory horsepower rating.
---
And every year came that dreaded moment when it was obvious the car would have to be stored for the winter. I always made sure the car was comfortable for the winter slumber, and stored it at a temperature-and-humidity controlled, 24hr surveillance storage center. It was always a rude shock to go from driving a sleek low sports job to a stodgy old rusty mid 80's Civic 4 door!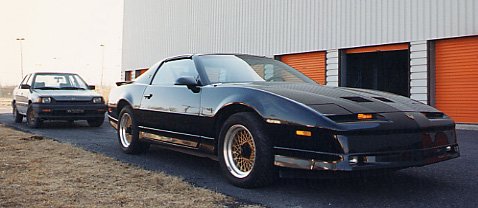 (1996)
---