A quiet 2006
---
A really short year for this car. Even though the repaired A/C should have made this a more comfortable family cruiser, the reality was that I was becoming very much burned out with respect to automobiles. The source of my stress? Ford. As much as I was charged up over the first Marauder we got, it was an excellent example of Ford's cheapness when it came to quality. By the time this photo was taken we'd been rid of our first Marauder and only had our second one, and that one had proven to be even WORSE!
So by early June when these photos were taken, it was already very clear that the Fords had to leave my life forever. However the emotional damage was done, at least temporarily, and I just didn't have any more interest in cars. Reluctantly, I performed the GTA's first oil change in early June and got it on the road, for what little driving it saw in 2006.
The car was holding up rather well for a 19 year old. Nonetheless, it was clear the car wasn't being driven enough: the seepage from the front crank seal was evident. Hopefully a little more driving would help fatten up those original seals into holding the oil inside where it belonged.
Nonetheless, having a car that wasn't subjected to corrosive road salt made it much easier to work on. Even the original Y-pipe that had been slammed by road debris (a discarded muffler of unknown origin) was holding up no problem.
So with 126800 kms on the clock, the car got a belly-full of clean oil but as fate would have it, that oil would not see more than 200-300km that season before the next storage! And besides the warmup lap around the neighbourhood, most of that mileage would only come at the end of the season!!
---
Snapping out of it!
As mentioned above, I began to hate cars. What finally snapped me out of it was getting rid of my last automotive headache... the last piece of crap Mercury Marauder in my possession. Between getting screwed royally by every technician in the wide area and seeing dishonest dealer practices not to mention the absolute horrible quality of the automobile itself, I couldn't stand cars.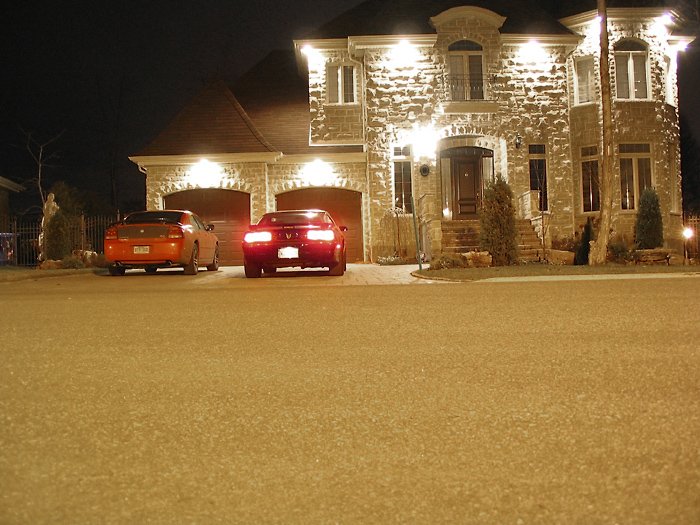 So what's that above? Well, the decision had been made earlier in the year to seek out an immediate replacement for the Marauder as a family car. The decision focused on a subdued basic V8 Dodge Charger, and by the time we found a car that matched our desired options, we had a bright red ("Tor Red") Daytona in our possession. By the time these photos were taken, it was late in the year and it was clear by then that this was how a car was supposed to be built.
If this website was restricted viewing, I'd not hesitate to loudly proclaim "F*** you, Ford" without blanking out the last three letters of that foul word! Thanks for nothing, you greedy lowlife scums of the Earth.
---
Zen and the art of enjoying cars again
With the automotive equivalent of pure hell finally behind me, I noticed a big change in my mood when it came to cars. One of the important things I did in the final days of November was to take a day off work and drive around to soak up a bit of what this car was all about. I drove all around town, window open to experience the crisp Fall air, and I made it a point to visit my grandmother's resting place, as a reminder to myself that I must give thanks for what I have and also be thankful for what I have overcome.
I've always said this car was about all the good things in my life: excitement, family, all the wonderful emotions (good and bad) that a person could feel. It was about time I reminded myself of that!
So with winter storage fast approaching I made it a strong point to try and at least get through an entire tank of fuel! I wanted to at least have a fresh batch of fuel run through the motor without stabilizer!
Sadly, I believe I only managed about 300 kms, barely nudging over the 127000 km mark, before it was time to tuck the car away for the winter season, in early December.
Waiting patiently for the 2007 season to fire up.
---