2002: what a year!!
---
The title says it all. With most of the gremlins exorcised in 2000, the year 2001 was in itself a year of total enjoyment of this car, and 2002 somehow managed to take it to yet another level. With great weather, the GTA was out and about more often than not.
(2002)
(2002)
The season started rather early in 2002, with salt-free roads available as early as mid April this year. In a complete change of routine, it was the GTA that held the honor of appearing on the roads the first of my three F-bodies. The WS6 did not leave the garage until late May, in fact!!! While I did keep the rainy days for the Honda, I nonetheless got nailed by rain on the very first night out... which shortly turned to snow!
(2002)
Mechanically speaking, the car started off 2002 in great shape. An early-in-the-year thermostat change and coolant flush brought the engine temperatures back UP to normal (it seemed like the car was having trouble warming up on cold days, acceptable considering the installed thermostat was about 8 years old (from late 1994). Oil pressure is still great for a 15 year old car (~45psi at idle in park, just above 30 psi at hot idle in Drive).
(2002)
Initially I was concerned about being able to shuttle my son around in an F-body, especially one I enjoyed driving as much as this one. My fears were unfounded... a baby seat does indeed fit perfectly in the backseat of a third gen F-car. Note the towel serving to protect the seats against any unfortunate incident (which hasn't happened yet) or undue wear and tear.
(2002)
I managed to enjoy some tunes in the car as well for the first time in several years. Since late 1997 I'd noticed a rattle in the driver's side inside C pillar that was sensitive to bass from the music I'd listen to. By 1999, it was so bad I had to turn the subwoofer down to minimal levels to be able to hear music properly... the subwoofer was most likely blown. I obtained a good lead to a shop in Tampa Florida that promised to do a great job on a re-cone if necessary and after installing it in early May, it's worked great ever since. Here's a look at what the stock amplifier did to a 4" subwoofer.
(2002)
Once again I had the pleasure of attending a local show and shine with all three Trans Ams, and took the requisite yearly photos.
(2002)
(2002)
(2002)
(2002)
Of course, the car could not possibly go a year without giving me at least ONE headache to worry about... and boy was it a tough one! As temperatures got colder in October, I started to notice the voltage indicator on the digital dash waver a bit when a little extra load was placed on the electrical system. Soon it was obvious my alternator was on its way out. A new battery and an alternator rebuild later (last time I'll ever do that again, what a drag of a task!), I noticed my TPS readings were off. Faulty TPS sensor? Nah, that would be too easy. A little more troubleshooting netted the following observation:

(2002)
Over 4 volts at the sensor, but the ECM would max out at 1.3 or 1.4 volts. The only logical conclusion: faulty ECM. Damn. The search for a replacement 1227165 ECM began, and after tracking down a few spare units, the brain transplant began after the car sat out most of October in the garage.
(2002)
Let me add that this task is VERY complicated in the confines of a garage... even had I benefitted from the extra clearance by doing this in the driveway, the catalytic converter hump on the passenger's side floor still would have made it extremely uncomfortable!
(2002)
What a mess in there...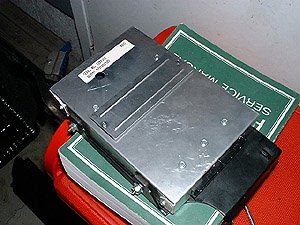 (2002)
Once the ECM is out, it's a matter of swapping the PROM over to the replacement ECM. It's a good idea to protect the ECM against static discharges by grounding one's self on something metal like a plumbing pipe as you handle the sensitive part.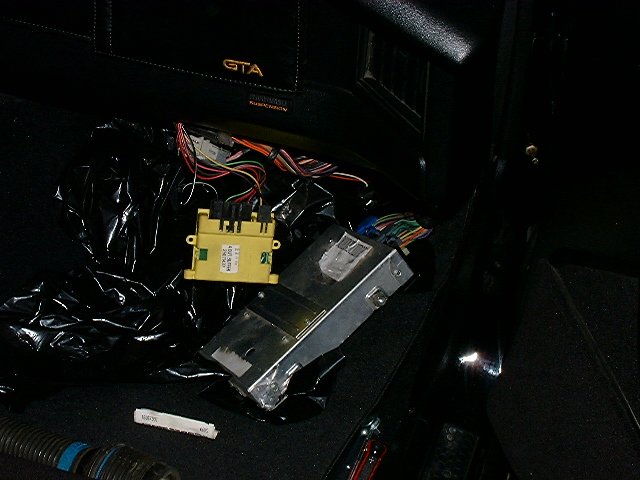 (2002)
With the car fully functional again, I got to enjoy a grand total of ONE weekend before the snow came and put an end to the 2002 F-body season. While the car is in the garage, I intend to update it with a fresh oxygen (O2) sensor and some other maintenance items like plug wires and possibly plugs themselves. Unfortunately I didn't hit my intended mileage target of 120000 km, but came pretty darned close!
(2002)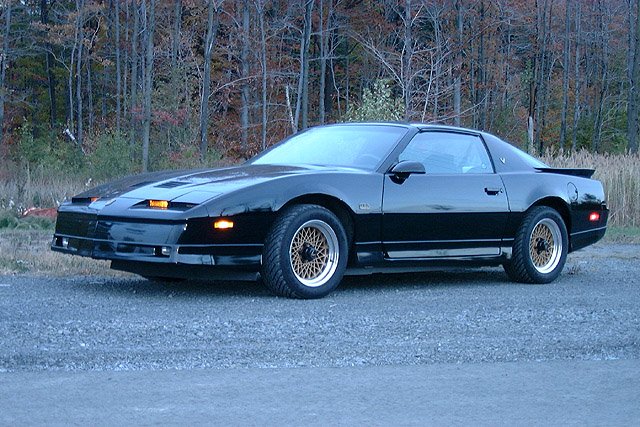 (2002)
---