1992 Acura Integra GS
---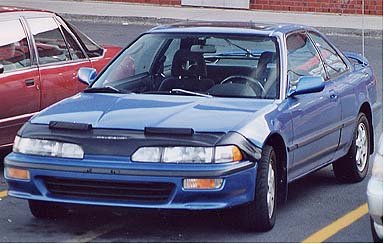 This car was purchased in an attempt to make winter a little more bearable. It was a gorgeous blue fully loaded sports coupe, with 140 hp emanating from its 1.8l torque-machine. With 5-speed it was a real road rocket, not the fastest in its class but economical and strong enough to make my sabbatical from the GTA a little less painful. Or so I thought...
A month or two after I purchased it from a co-worker, the roof began to blister wildly as rust began to show around the windshield edge. This was fixed, followed by a terrible RIP OFF on a scheduled timing-belt replacement from an Acura dealer. Eventually the rear wheel bearing began to fail, and the rear discs were beginning to decay at an alarming rate (there was poor ventilation at the rear on these models). Good parts for these cars were costing me a FORTUNE!
The car also had the misfortune of being hit on the front fender by the rear end of another car that was itself hit by a bunch of late night party animals who burned a red light. The ensuing repair and paint job was never up to snuff, with the bumper paint continuously cracking within weeks of paint application.
The last straw was when rust began to form on the back quarter and around the tail lights. Turns out the car had been in a MAJOR accident and the entire rear end was BONDO. So much for trusting a co-worker/friend. At least that explained how water kept getting in the trunk!
So the car was traded in, a huge loss was taken (I'm still hurting from it...) and the 1998 Trans Am WS6 was ordered with the intention of being the replacement winter car during the GTAs winter vacation. But we all know how THAT turned out...
---
Ice Storm 1998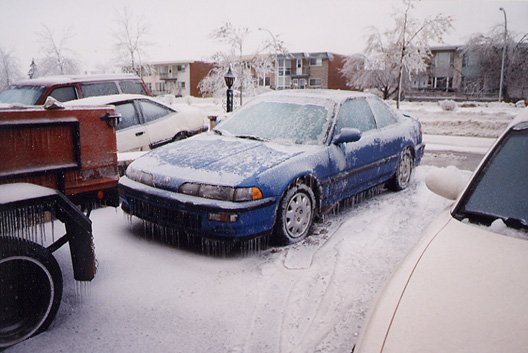 The poor car really took a beating during the major ice storm that struck and paralyzed Montreal (and most of the eastern provinces and states!) in January/February 1998. I'm not exaggerating... there was a coating of ice on the car a good 2 inches thick, more in some nooks and crannies (ie. under the mirrors, etc.). I had to take a hammer to the door edges to be able to get in the car! You can see fallen trees and branches in the background.

Even with good winter tires, the poor thing had no choice but to get stuck in iced-over parking spots... unremoved snow covered in inches of ice makes for a hellish driving/parking surface. Who knows what extent of mechanical abuse that car took during that episode...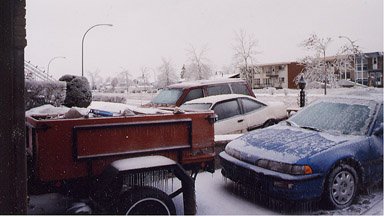 ---
Meanwhile, since buying my house a few years ago, I spotted an identical blue 92 Integra in my neighborhood, with plates coinciding with the timeframe in which I traded the car in... could it be the same infamous machine come back to haunt me? Who knows...