My New Old Car?
---
The year: 2000. New millenium, new hopes, anything is possible... blah blah blah. So what exactly happened here?
(2000)


What you see above is exactly what I saw that fateful day in the fall of 2000 when I made the 2 hour trek to Pont Rouge, a small town just outside Quebec City. This is the photo that I found of the car as advertised in the local online trader after having stumbled across it by accident, having journeyed there in a quest to find a parts car to rejuvenate my 1985 Civic winter beater (see details in 'beater' section). This photo is exactly what I saw as I passed the owner's house... the 'for sale' sign intrigued me to no end. Even though it was raining fairly hard, I screwed together the courage to look closer and managed to cop a test drive.
---
Well, the test drive was what did it. Even though I was not actively looking for a third Trans Am, the car 'spoke to me' (no I'm not mentally ill). It's a certain 'soul' that most new cars just do not have. This car was a survivor, with minimal rust damage (except for one spot needing serious attention at the bottom of the front fender). Even the dash clock worked. The all-original 400-cubic-inch Pontiac engine ran smooth and strong (although quite loud, as there was a massive exhaust manifold leak at the driver's side). The transmission shifted smoothly and decisively, exactly as I remembered on the old 70's cars. I just HAD to rescue this car...
(2000)


So after some haggling over the price, I snatched the car up for what was practically a song. Within a few days it was sitting in my driveway, and I almost immediately experienced buyer's regret. Up close and in the sun, I saw what seemed to be so many blemishes and scratches, but after the first wash I realized that 99% of the 'scratches' were actually REALLY OLD wax streaks!!
(2000)


This car is a total departure for me. I prefer sticking to cars that are:
mechanically sound, almost trouble-free
cosmetically perfect, or without too many visible scars
optioned to the hilt
So what was I doing with this car? It's got no options (manual windows & locks, originally AM radio, base 400, non-WS6)... it's got some rust bubbles here and there on the black paint (originally silver!) and a couple of bad rust spots.
(2000)
---
There's something about the 2nd generation Trans Am that simultaneously evokes both a calm serenity and an aggressive muscular attitude. The car's tasteful rear end delivers a functional rear spoiler that integrates so seamlessly into the rest of the car that one wonders how anyone could have ordered a 2nd gen Firebird without it! I've always been a big fan of full-width RED tailamp treatments, and this car delivers it well. The curvature of the taillamps provides that restrained offset from the muscular spoiler and Trans Am graphics.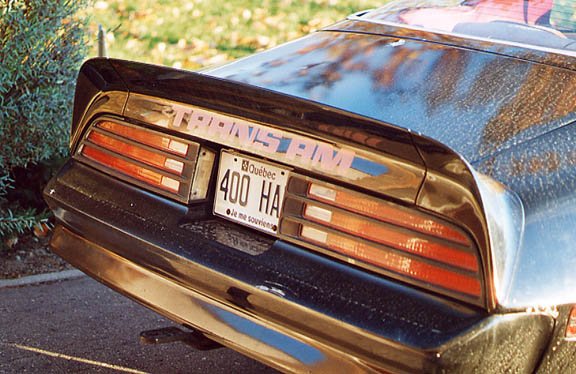 (2000)


The car's front end continues this paradox... Chrome brightwork surrounding the grille openings and a tasteful Pontiac crest lend the car a futuristic look, accentuated by the angular front bumper treatment. But when you step back and consider the front wheel well spoilers/skirts and look farther up the hood at that massive shaker scoop, you have to ask yourself if there's anything restrained about this car.
(2000)


It's these sensory overloads that drive me to keep staring at any picture of a 1977 or 1978 Trans Am for great lengths of time. That's why I found myself taking more and more time behind the wheel of this car, trying to figure it out and soak in what it was trying to deliver to a 1978 automotive market. If anything, it's just so totally cool to tune in to an oldies station playing disco music or classic 70's rock... perfect for setting the mood.
---
So now it was time to take stock of what needed to be done to the car.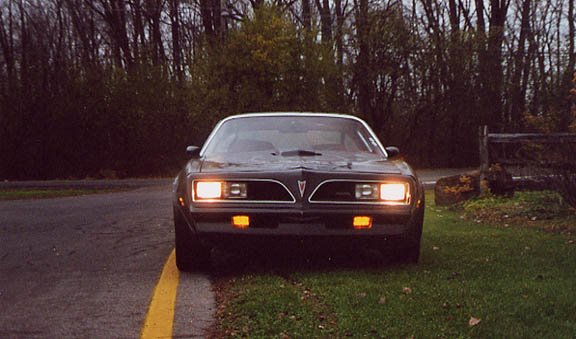 (2000)


Everything appeared to work well... the instrument panel worked flawlessly, the radio is an aftermarket unit with aftermarket rear speakers, but it's better than nothing. All the exterior bulbs and lamps worked, and the 400 ran strong and smooth. Even the parking brake still worked! The car did require some attention to the radiator and driver's side exhaust manifold before it ran at its best. Also, the fuel pump and some fuel lines decided to give up the ghost... with a 21 gallon gas tank, you don't want to throw away fuel, especially with a thirsty Pontiac 400!

The 325 lb-ft of torque at just 1600 RPM will torture those 245/60-15 BF Goodrich T/A tires at will. And it's such a cool trip to sit behind that massive non-functional shaker scoop... you don't know what it's like to own a Trans Am until you've had that "bird" and "scoop" combo!

(2000)
---