2010: Reboot!
---
This probably doesn't mean much, so some a little bit more of Trans Am history is in order.
With the tightening emissions regulations of the 70s, most performance cars in the tradition of the old "muscle cars" were extinct. The Pontiac engine family's last hurrah from that era was the 1973-1974 455 Super Duty motors that were thinly disguised racing motors, and were revered as such. However, the timing couldn't have been worse: the oil embargo of 1973 pretty much drove away customers from such fuel-thirsty machinery. Additionally, the emissions regulations made for engines that were increasingly restricted in terms of power output. By 1976, the largest Trans Am motor was still a 455 (brought back in mid 1975 due to popular demand) but was nothing more than the "station wagon" motor you could get in the larger sedans. A healthy 200 hp with great torque, but a far cry from a "muscle car".
However, the concept of a performance car never died. The Trans Am's combination of flashy-70s looks (I mean, a flaming bird on the hood? Really?) and great handling meant that a new breed of performance car was emerging, one that would excel at "making do" with what they had to work with. Sure, the savvy mechanically-inclined owner could always buy a new car and have it modified to achieve the straight-line performance of yesteryear but for the majority of buyers, there was certainly interest in a factory-engineered performance packages... especially from a fuel mileage point of view!
Engine downsizing was clearly the approach being taken by engineers as of the late 70s. In 1977, the largest engine in the Trans Am was no longer a 455 but rather the 180 hp 400 cubic inch unit,production code L78 left over from previous years. With the imminent return of the Camaro's Z/28 and Pontiac gunning to dethrone the Corvette as top handling sports coupe, it was obvious a performance engine option was needed. It was the typical hot-rodding of an existing engine... transplanted 6x-4 heads from the smaller Pontiac 350 resulted in a bump in compression ratio, a performance camshaft adapted from the aggressive earlier-70s profiles to meet emissions requirements, more aggressive ignition specs and carburetor tuning, more aggressive differential gearing... all working together to deliver a 20hp bump to an even 200 for this hotter 400.
The option code: W72.
It would be available with either 4 speed manual or 3 speed automatic transmissions (the latter slightly tweaked to make the most of the new engine's higher RPM operation). For 1978 there would be improvements to the carburetion, cam profiles, and a semi-dual exhaust system that replaced the single behind-the-axle crossflow muffler (with two split "Trans Am" outlets of course) with a dual path back from the single catalytic converter breathing through 2 resonators and exiting through the same twin outlets per side... all of this boosting the output to 220 hp. The combination eventually did go on to dethrone the Corvette thanks to the new-for-1978 WS6 handling option (but that's a whole other story).
With the automotive buyer's fascination with all things european, engine callouts on the Trans Am's shaker were no longer in cubic inches, the L78 400 now displaying a "6.6 litre" decal instead of the previous "400". (Unfortunately this also applied to Trans Ams equipped with the Oldsmobile 403 which was mandatory for California and high altitude markets for emissions reasons). However, the W72 spec motor would be identified with unique lettering: the famous "T/A - 6.6" decal we see above.
Famous or infamous, as many L78 owners opted to add the T/A - 6.6 lettering on their shaker scoops instead of the "6.6 litre" decals. It didn't help that for years GM only provided the T/A 6.6 lettering over the counter, so any repainted or repaired cars would end up "upgrading" their decals whether they liked it or not! In fact, it seems that for 1978, L78 and Olds 403 owners got "blank" shaker scoops. So if you wanted lettering on your shaker for 1978, it had to be T/A 6.6.
This is likely what happened to my L78 at some point early in its life. Personal preference was such that I did not mind the aftermarket (albeit very faded) T/A 6/6 lettering on my 180 hp car. In any case, I never made it a secret that my car was not a W72, and any savvy collector could easily detect the "regular" 6x-8 heads as well as the painted valve covers (the W72 came dressed with satin-polished valve covers) not to mention the non-W72 carburetor, differential gearing and the automatic transmission (late '78 cars like mine no longer offered the automatic with the W72). After a repaint, I was certain I wanted to stick with the T/A 6.6 script anyway.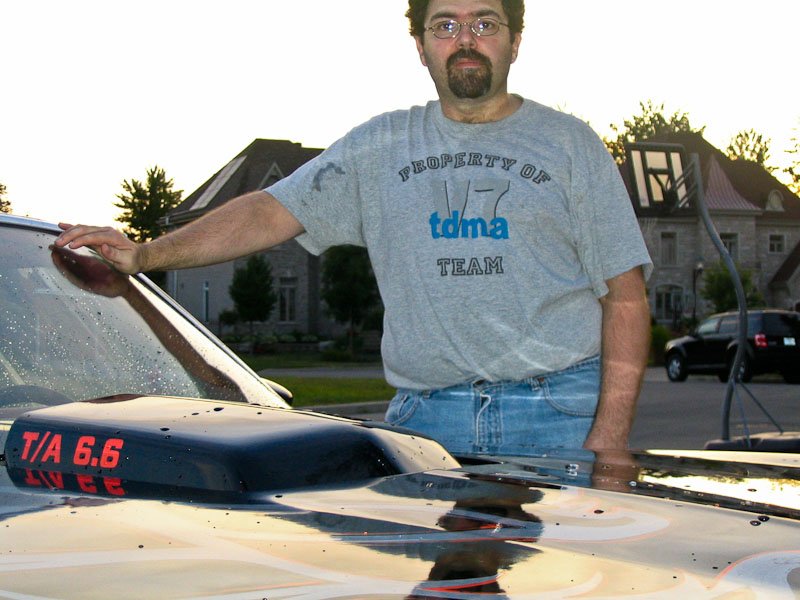 Cheesy looking, those aftermarket vinyl decals... no? :-)
While "W72" holds a certain cache for late 70s Trans Am lovers, I was fine with my "base" L78. Nice usable torque, great fuel mileage once I had it properly tuned up, a pretty decent sound with my custom dual exhaust system since 2005/2006. I had big plans... maybe an improved differential gearing ratio change coupled with an upgrade in automatic transmission to a modern 4 speed overdrive unit (although my high mileage 3 speed THM350 was working fine, it was so bulletproof!). After the exterior refresh, I'd likely rip out and replace the interior, add all sorts of options like power windows and tilt wheel etc., then move on to tightening up the suspension to modern taste (hey, it was the 70s!) and then tackle the powertrain upgrades as mentioned. In other words, I had plenty to keep me occupied until retirement.
Which was kind of a bummer actually, because at my age I suddenly began wishing I could just get it all done in one shot. I certainly was attached to this car, being so ultra-reliable and easy to own. But you never know what life brings in the future, and I really wanted to enjoy my time with a "finished" car. A black-and-gold car. And with the ridiculously low options on my L78, the very high mileage, and its deviations from original condition (originally silver, single exhaust, etc.), it would never really hold value as much as a low mileage fully loaded example... something I had a hard time justifying from a budget point of view.
---
Here's where it gets weird. Literally the DAY I decided to check online to see what sort of cars were out there, I spotted this car in an ad from nearby Ontario.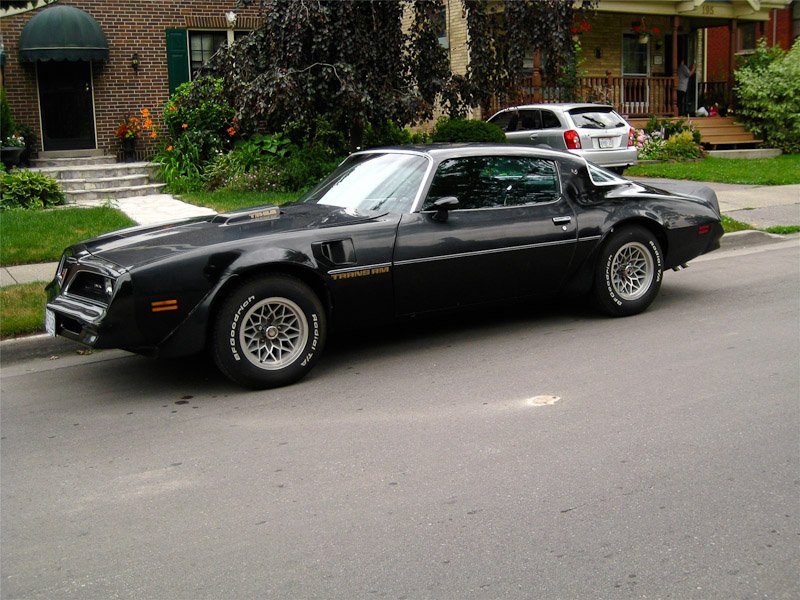 I couldn't believe my eyes. It was all there... a fully loaded very low mileage 1978 Trans Am with all the luxury and performance items I could ask for! And for a price that seemed very fair considering the all-original claims in the ad... even the claimed original paint looked healthy in the photo! And still belonging to the original owner!
Here's what the car had to offer according to the ad, option-wise:
W72 engine (a real T/A 6.6)
4 speed manual transmission (confirming it was a W72)
WS6 high performance suspension with the 8 inch snowflakes!
Deluxe black cloth interior
A/C
power windows
tilt steering wheel
delay windshield wipers
original cassette stereo and speakers
low mileage (just over 50000 miles or 85000 km)
Never winter driven and fully rustproofed nonetheless!
original exhaust (!)

The price seemed VERY fair especially considering some other cars I started investigating at the same time, with similar options but often in worse conditions or (in the case of one particular local car restored by a very well-known restoration house) totally over-restored and butchered.
Discussions with the owner led to receiving additional photos, and I was lucky enough to have someone local to the car go over to have a look at it up close and report back with his opinion and some photos. What I got back was a huge number of gigabytes of detailed up-close photos (!) and even video of the car running! Todd and Barry, I owe you guys big time for all the help!
What the photos showed as a car that wasn't exactly what was being advertised. The mileage and overall condition checked out, but the original paint wasn't so original anymore. There were some minor rust bits in some areas, totally understandable even on a winter-stored vehicle in this climate, but there were some bizarre paint repairs here and there. Consultation with my restoration expert confirmed there were many questions that needed answering... I began to fear a scam, and the owner's sudden very defensive attitude did not help at all. Nonetheless, my expert felt it was worth pursuing further, so we resumed talks and it eventually led to a visit in person accompanied by this restoration expert, requiring a total of 17 hours of driving in one day + a solid 3.5 hours of examining every inch of the car, in and out and underneath!
From the moment we turned the corner, even after such a long drive and nearly 6 car lengths away from the car itself, it was pronounced there was no way that was original paint. Wow. Sure enough, what looked like a shadow on the rear driver's quarter was really some bizarre repair job that was poorly painted, obviously many many many years ago. Similar spots existed on the front driver's fender and driver's door, while the passenger's side appeared to have survived unscathed but was suffering the odd minor rust spots here and there. But all together, there was NO way this was original paint... GM factory paint jobs NEVER suffered from overspray on window moldings, for instance! LOL!
Well, we were there anyway, so we gave it a good once-over just to see what we were up against.
The car obviously had some fender benders here and there, and even the rear bumper was hanging a bit crooked and was beginning to deteriorate due to lack of paint coverage.
There were obviously a number of incidents over the years, which is to be expected on a car of this age (although based on mileage, I'd say the car had a hard life... for a winter-stored "special" car, it couldn't come close to matching the condition of many of my winter vehicles at twice or three times the mileage!).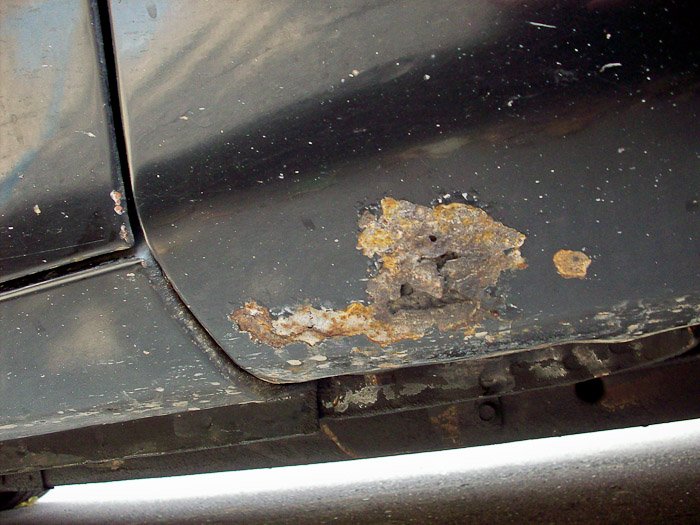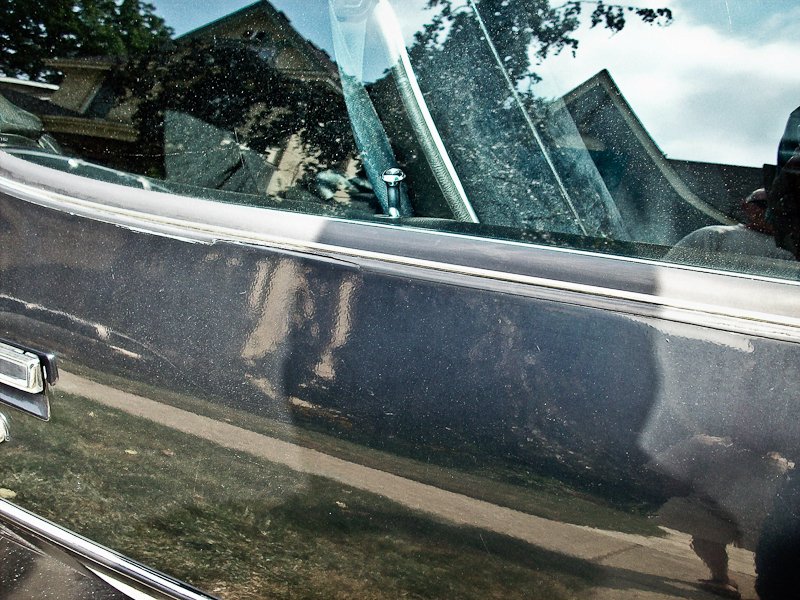 All the rubber weatherstripping and window seals would need replacing, naturally. At this point it was clear there was no way this car was worth the amount they were asking. Obviously the bonus factor behind it being such a rare loaded Canadian car with such low mileage and SO incredibly SOLID underneath, it should have commanded a premium but the reality is that even before the market downturn for these cars, this particular car could never have fetched the amount they were asking. I suppose being the original owner, one tends to overlook what might seem striking to a neutral outsider.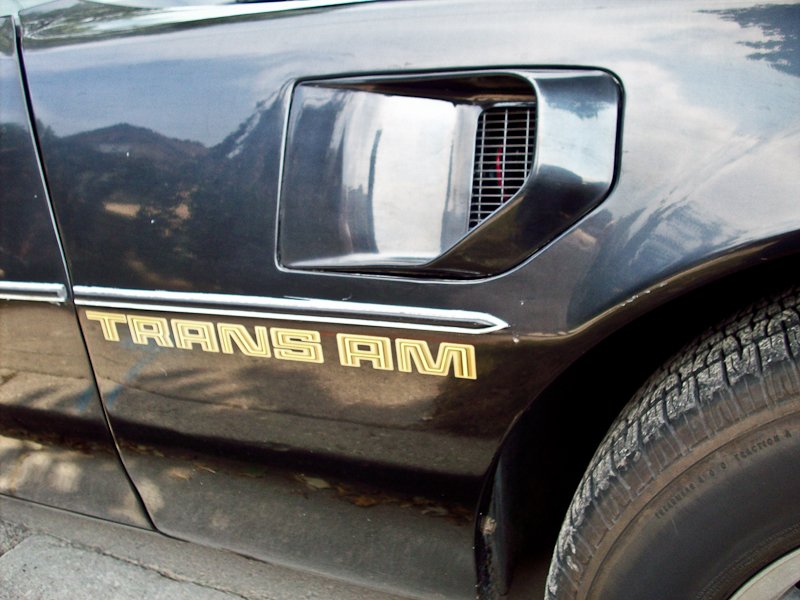 I didn't even bother taking a photo of the water pump which was leaking like Niagara Falls, precluding even the most basic test drive. That's right, I wasn't even able to take it for a test spin! At this point many people would have not walked but rather run away, especially given the impression that something was being covered up. I could even tell by the roughness in engine operation as it idled that I would need to invest a lot of personal time into tuning it back to drivable condition, much less one worthy of the price they were asking.
Nonetheless, it struck me as reassuring that the photos that were provided to me by the original owners did not try to conceal any of the uncountable dings and dents on the car nor the rust outbreaks. This was in stark contrast to the suspicion I was being taken for a ride in this transaction. I imagine if they wanted to rip me off, I wouldn't have received such detailed photos of the weak parts of the car. We went ahead with the thorough inspection of the vehicle right in front of the owner's house, too busy to even take additional photos. All the superficial funkiness of the car was offset by the fact that it was a very very solid car, rustproofed so thoroughly that even the factory primer was still visible underneath. Even the original W72-specific exhaust system including the pellet catalytic converter was still in place!! Even the interior was very nicely preserved!
All was not as bad as it could be, so read on to see some of the good stuff we found on this car during our inspection.
---