2002: more fixing up to do!
---
(2002)

The year 2002 began late for this 1978 Trans Am. Work and fatherhood responsibilities meant I could only resume work on the car in early July of 2002. For this year, I decided I would tackle the mess of vacuum hoses in an attempt to smooth out an arhythmic puffing sound in the exhaust, as well as a mysterious surge that would occur within minutes of starting the engine. The car would start fairly satisfactorily, run somewhat choppy (pronounced cylinder firing) for a few minutes at 1400-1500, then would surge to 1800-1900 and run smooth as silk. Turns out to have been a plethora of vacuum leaks, and replacing all vacuum lines smoothed everything out, although an occasional puff is still heard from the exhaust when listening up close.
(2002)

I also decided to tackle degreasing the valve covers and painting them the original hue of GM blue. Above is what I had to deal with at the beginning of the operation. Note that the goal of this task was to replace the valve cover gaskets in order to stop the leakage that was becoming annoying (and in some cases, smelly).
(2002)
The passenger's side valvetrain
(2002)
The unpainted result
Once the passenger's side was complete (minus paint job due to the never-ending search for the right color engine paint for 1978 Pontiac engines), the driver's side was tackled as well.
(2002)
---
(2002)
The valvetrain...
(2002)
(2002)
(2002)
(2002)


Here we see the semi-complete job, with the driver's side cover completed and the passenger side cover test-painted at the front corner, ready for next year's paint session once the intake manifold is removed and cleaned up as well.
---
I mentioned earlier that the reproduction decals used on this car when it was repainted in 1987 had faded to a horrible shade of pink from their original orange or red. Not having the funds to justify replacing the decals with proper reproductions only to have the car repainted in a few years, I decided to prolong the useable lifespan of these existing decals by spraying them a GM Orange hue. The result was better than I expected. Above is a shot of the rejuvenated shaker decal characters, and below is a shot of the rear spoiler decal after a careful spraying. The fender decals will be addressed next year.
(2002)


Slowly but surely, this car is beginning to come together. I can tell it has its sights set on improving itself to a condition comparable with the '98 Ram Air Trans Am in my garage!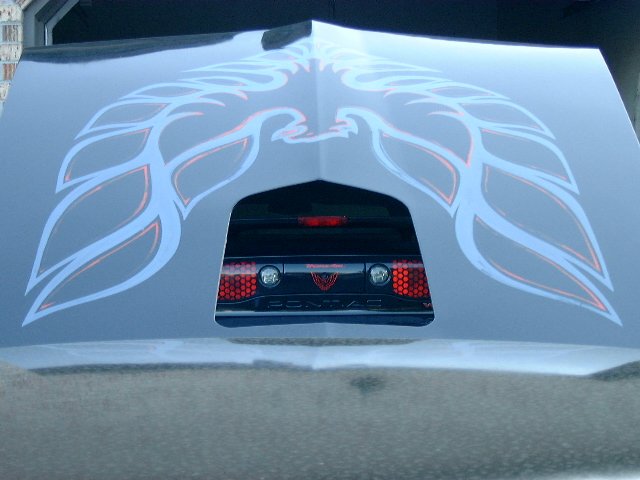 (2002)
---